Modern Vintage Christmas Decorating Ideas – Holiday Housewalk 2022
Welcome to my Christmas home tour! Today I'm excited to share my home with easy modern vintage Christmas decorating ideas.
This post may contain affiliate links for your convenience.
Grab your cup of coffee to enjoy the Holiday Housewalk 2022 hosted by Jen Rizzo. Jen has been hosting a Holiday Housewalk for 12 years and I'm so excited to be on the tour this year. You can start the home tour with Day 1 at Jen's home here.
Today, I'm stop number 13 on the tour.
If you're joining me from Sheila at Maison de Cinq's tour, welcome!
Now, let's get to my 2022 Christmas home tour!
Vintage Christmas Decorating Ideas
This year, I wanted my Christmas decor to feel nostalgic.
I made some handmade ornaments to mix in with store-bought, and focused heavily on greenery, simple ribbon and mood lighting.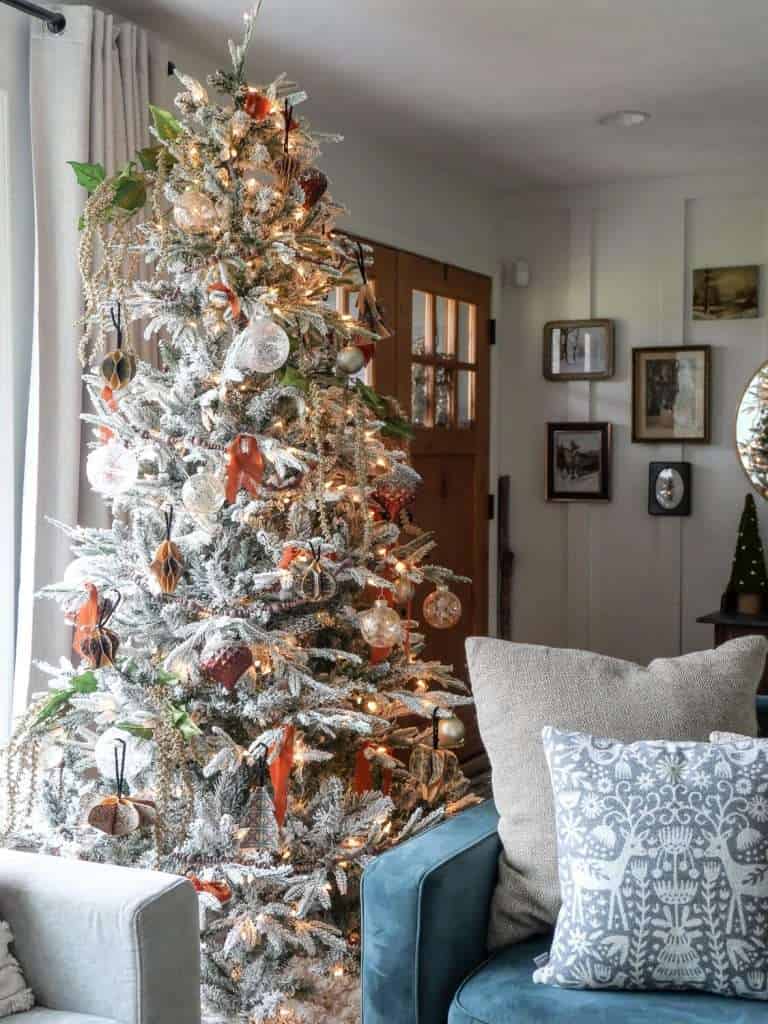 As you progress on my tour, be on the lookout for callouts where you can find more details about each space in my home!
Using Candles in vintage Christmas decorating ideas
First, let's start with my favorite space this year.
The Christmas mantel.

This is the first year I've had the stone fireplace to decorate for Christmas. It adds so much charm and character to this once blank wall.
I focused heavily on creating a very full and natural look with a mixture of norfolk pine, cedar, and juniper garlands. Then, I added some embellishments with vintage sleigh bells mixed with new reproductions.
I finished it off with dried orange garland and some classic ribbon.
Of course, the icing on the cake is the candles. These candles are battery operated by remote control. It makes it so nice to be able to turn them all on and off at once without a fire hazard. However, they flicker so you still get that cozy glow!
I also placed single tapers throughout the home in different centerpieces and on side tables.
I love how the glow of a candle, real or faux, brings us back to the old days where candlelight was their main source of light.
Adding Greenery for a modern vintage Christmas
Next, I focused heavily on greenery in this year's Christmas decor.
I wanted a modern vintage Christmas look where the two styles and time periods collide to create something restful and nostalgic without feeling overly antiqued.
Greenery that is naked or plain, sans flocking and embellishments, feels the most authentic to me in creating a modern vintage Christmas look.
In the old days, people would make cedar or pine garlands straight from the woods. So I like to keep my greenery basic and plain. It serves as a special bonus that it can transition easily to winter decor after the holidays are over.

Incorporate Ribbon for nostalgia
Next, I added some simple ribbon to a few select spaces.
Rather than tie large bows or encircle the Christmas tree in lengths of ribbon, I simply tied a few strands of chiffon ribbon in a knot on the tree.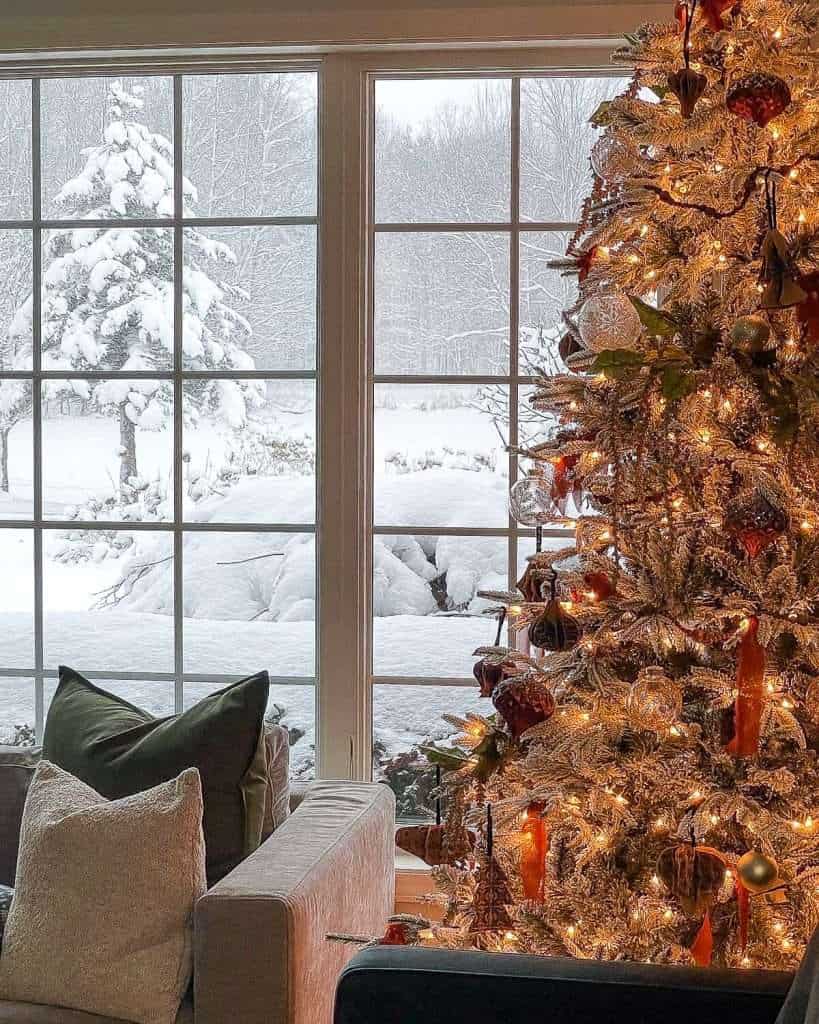 I prefer a more subtle look with my ribbon. Bonus: it is much simpler to tie a knot with loose ribbon than to create fluffy bows with wired ribbon!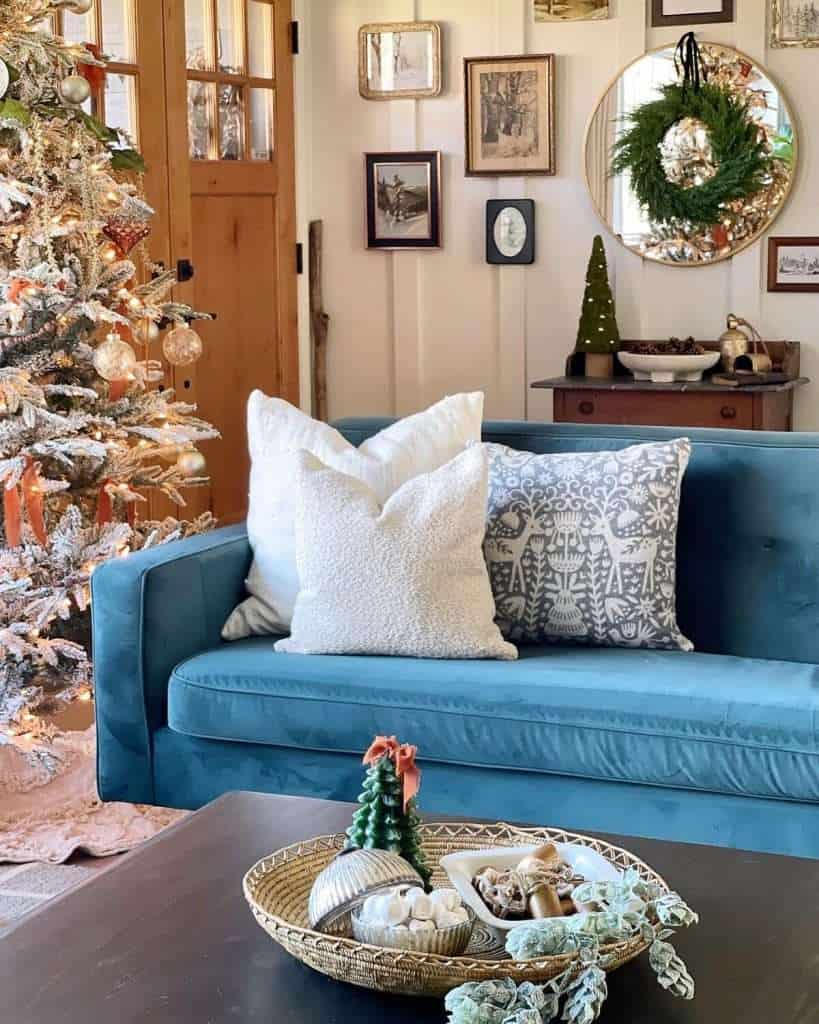 To tie the room together, I used the same ribbon sparingly in a few spaces. I topped a Christmas tree candle with a simple bow on the coffee table. Plus, you might have noticed above that I added it to the mantel garland as well.
Creating Vintage Christmas Decorating Ideas with Handmade Ornaments
One of my favorite DIYs this season is these simple handmade ornaments.
You can see how I made them here. The cork I used reminded me of vintage wallpaper. It is so affordable and it was a fun project.
Adding handmade elements is a fun way to make a space feel more unique and nostalgic.
Use Vintage Artwork and Photos as Christmas decor
My last vintage modern Christmas decorating idea for today is to incorporate vintage artwork!
I used these vintage prints to create a gallery wall in my entryway. I love that it will be easy to transition to winter decor in this space once the holidays are over.
How to Mix Modern and Vintage Christmas Decor
As you can see, I love mixing modern furnishings with vintage pieces.
You can learn all about the art behind mixing modern and vintage together in these posts.
The key is to create a foundation of modern architecture, main furnishings and design choices. Then, add in vintage accents, small furniture or decor pieces to ground the space.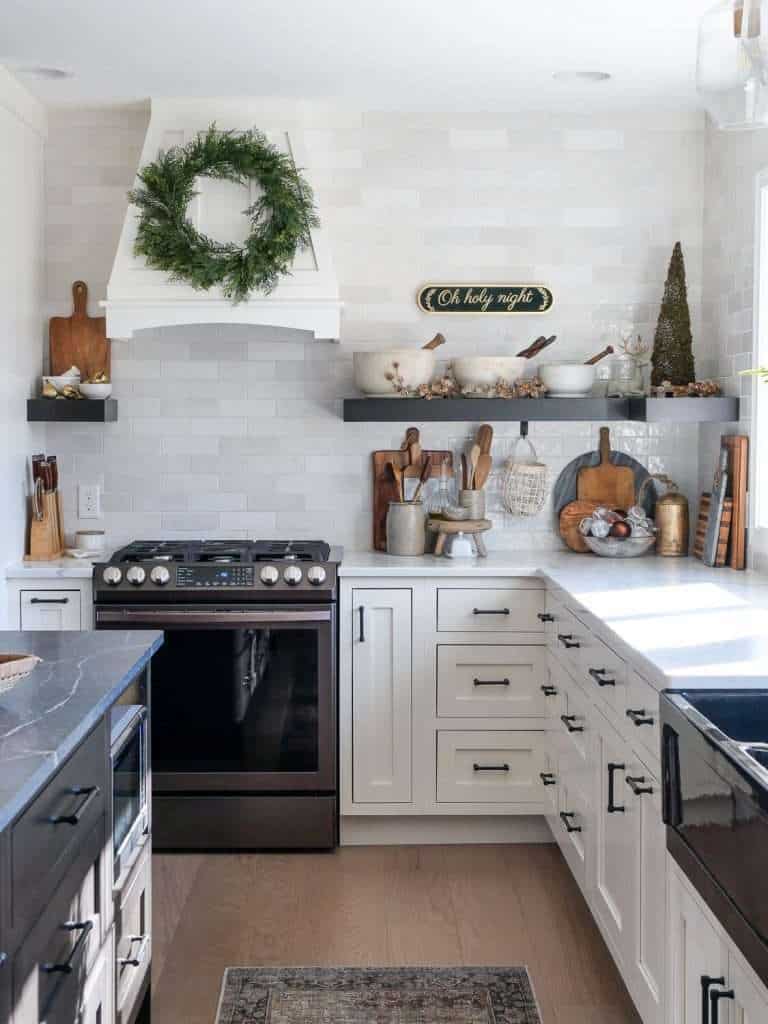 My kitchen is a great example of this.
The cabinetry and main architecture of the room are all new modern styles. Then, I added in my antique mortar and pestle collection, some vintage stoneware, and antique wood pieces like spoons and pedestals.
Make it holiday-ready by adding that naked greenery and a few overtly Christmas-related decor accents!
More Christmas decorating ideas
I hope you've enjoyed this year's home tour! As a gift, God sent a blanket of snow for me to capture and share with you.
Make sure to head next to my sweet friend Julia's home, from Cuckoo 4 Design, to continue on the Holiday Housewalk!
And, if you'd like to tour more of my home for the holidays, check out these articles you might also like.
Thanks so much for stopping by the blog today!
Make sure to subscribe to get my Grace Notes directly to your inbox and to access all my insider perks. You can also follow along daily on Instagram and weekly on YouTube!
~Sarah