The Secrets of Successful Thrift Store Shopping for Thrifted Home Decor
Have you ever walked into a thrift store with high hopes of finding the perfect piece for your home decor, only to leave feeling disappointed and empty handed? You're not alone. Thrift store shopping can be overwhelming and frustrating, especially when you don't know where to start. But fear not, because I've got the insider secrets to successful thrift store shopping for beautiful and quality thrifted home decor.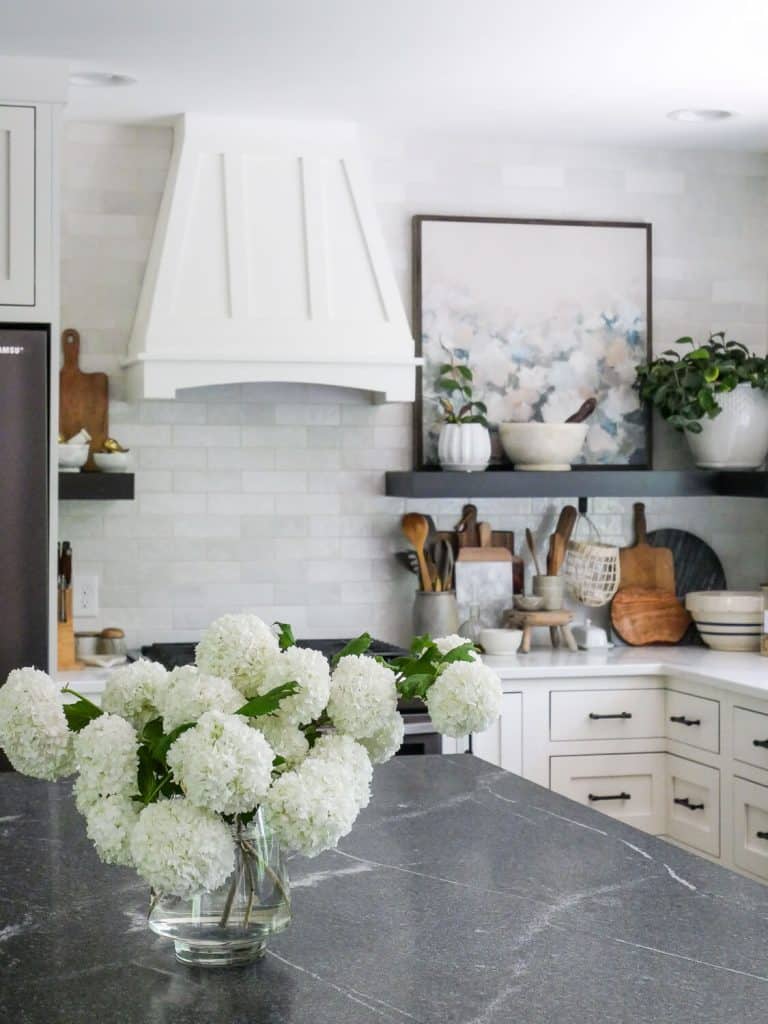 In this post, I'll share tips and tricks for finding the best items, examining them for wear and tear, repurposing and DIY projects, haggling for the best price and even decorating with your thrifted finds.
So, whether you're a seasoned thrifter or a beginner, these secrets will make your next visit a success. Get ready to score some amazing pieces for your affordable thrifted home decor!
This post may contain affiliate links for your convenience.
Throughout this article I'll be sharing some of my favorite thrifted home decor finds! Many of them have DIY tutorials and amazing before and afters connected to them for you to browse further.
5 Secrets to Scoring Incredible Thrifted Home Decor
When to Shop for the Best Selection of Thrifted Home Decor
To ensure that you have the best selection of home decor treasures, it's important to know the best times to thrift.
Timing is everything when it comes to snagging the perfect item. If you visit on a Sunday afternoon, chances are the shelves will be picked over and stock will be low. Instead, try going early in the morning on weekdays – this is when most thrift stores restock their inventory.
Weekends can also be busy, so try visiting mid-week for a calmer shopping experience. Better yet, speak to an associate directly in your favorite thrift store and ask if they have a normal restocking day you should plan on.
Another great time to thrift is during seasonal transitions. When the weather starts to change, people tend to clean out their homes and donate items they no longer need.
(See how I lightened this previously painted vintage lazy susan for a modern look.)
This means a fresh influx of items for you to discover. Keep these timing tips in mind to ensure you have the best chance of finding those unique, one-of-a-kind pieces for your home.
Quality Check: How to Examine Items for Wear and Tear
When shopping at thrift stores or online, it's important to inspect items for wear and tear. Consider the quality and condition of the items you're interested in.
It's helpful to carry a small flashlight with you to examine items more closely. Start by examining the item as a whole, checking for any major damage or issues.
Then, move in for a closer look, examining seams, edges, and corners for any signs of wear or tear. This is especially important for fabric items like couches or curtains. Be sure to also check for any stains, holes, or pet hair.
When examining furniture, look for any wobbling or loose joints. Keep in mind that some wear and tear can be fixed with a little TLC and DIY skills, so don't shy away from an item just because it needs some work.
(See how I transformed this coffee table from dated and worn to what it is today!)
Taking the time to examine items will help you make informed decisions and ensure you're taking home high-quality pieces.
Think Outside the Box: Repurposing and DIY
When it comes to thrift store shopping, nothing beats the feeling of finding a unique item that perfectly matches your personal style.
But what if you come across something that's not quite your taste? That's where repurposing and DIY come in.
Don't be afraid to think outside the box and consider how you can transform an item into something that suits your needs. I have an entire article dedicated to what to look for when thrifting to support this point!
A vintage lamp might make the perfect plant stand with a fresh coat of paint, or an old sweater could become a cozy throw pillow.
By repurposing and DIY-ing, you'll not only save money but also have fun and add your personal touch to your home decor.
(See more of my kids' playroom makeover in this post.)
Thinking creatively doesn't just apply to pieces that aren't quite what you're looking for. You can also transform damaged items into something new.
A scratched piece of furniture might look like it's seen better days, but with some sandpaper and a fresh coat of paint, it can become a statement piece in your home. Before you pass up an item because of its condition or color, consider how you might be able to give it a second life.
Repurposing and DIY-ing also gives you the opportunity to customize your home decor. By adding your personal touch, you can create a space that truly reflects who you are.
So, the next time you're browsing a thrift store, don't limit yourself to what you see. Consider what an item could be with a little imagination and creativity.
With these tips in mind, you'll be able to transform your space with truly unique pieces. And once you've found the perfect items, it's important to negotiate for the best price, which we'll discuss in the next section.
Negotiating 101: How to Haggle for the Best Price on Thrifted Home Decor
When it comes to thrift store shopping, finding unique and affordable items can be a thrill. However, if you're paying full price for everything you find, you're not getting the most bang for your buck. This is where negotiating comes in handy.
Firstly, it's important to do your research and know the value of the item you're interested in. Check online for similar items and their prices. Armed with this knowledge, you can then make an offer that's fair and reasonable.
Next, always ask for a lower price. It may seem awkward, but it's a common practice in thrift stores and the worst that can happen is the seller declining your offer. However, if they counter with a higher price, you can continue to negotiate until you both reach a price that works for both parties.
Lastly, be polite and respectful throughout the negotiation process. Remember that thrift stores rely on donations and profits to support their cause, so don't lowball to the point where it's insulting.
Appreciate their willingness to negotiate with you and keep the conversation friendly and positive. And, if an item is already a fantastic deal, then don't haggle any further! Just be grateful for an already affordable price tag.
With these tips, you'll be able to score even better deals on your thrift store finds. And once you've negotiated the best price, it's time to start decorating your space with your unique thrifty treasures.
I have a full article sharing 10 tips to haggling at flea markets which also works extremely well one-on-one with Facebook Marketplace sellers!
Best Places to Find Thrifted Home Decor
While most people assume you can only thrift at a thrift store, there are actually many ways to score thrifted home furnishings. Here are my favorite sources for second-hand finds if you're up for a good hunt.
Local thrift stores
Garage/yard sales
Barn sales
Moving or Estate Sales
Auctions
Flea Markets
Antique Shows/Fairs/Stores
Facebook Marketplace
Chairish Thrift Store (On the higher price range)
Etsy
Ebay
1stDibs
Mercari/Poshmark
Personally, the majority of my thrifted furniture items come from Facebook Marketplace, a local flea market, estate sales or antique shows/stores.
(See more of my guest house in this makeover series.)
Don't discount stopping into places like antique stores or searching online because you think you'll only find expensive prices. I've scored some amazing thrifted deals with some good keywords, patience, time and persistence.
How to Decorate with Thrift Store Finds
Find Inspiration to Guide Your Purchases
Decorating your home with thrift store finds is a great way to add unique character and personality to your space without breaking the bank. However, it can be overwhelming to work with pieces that are pre-loved and may not perfectly fit your vision.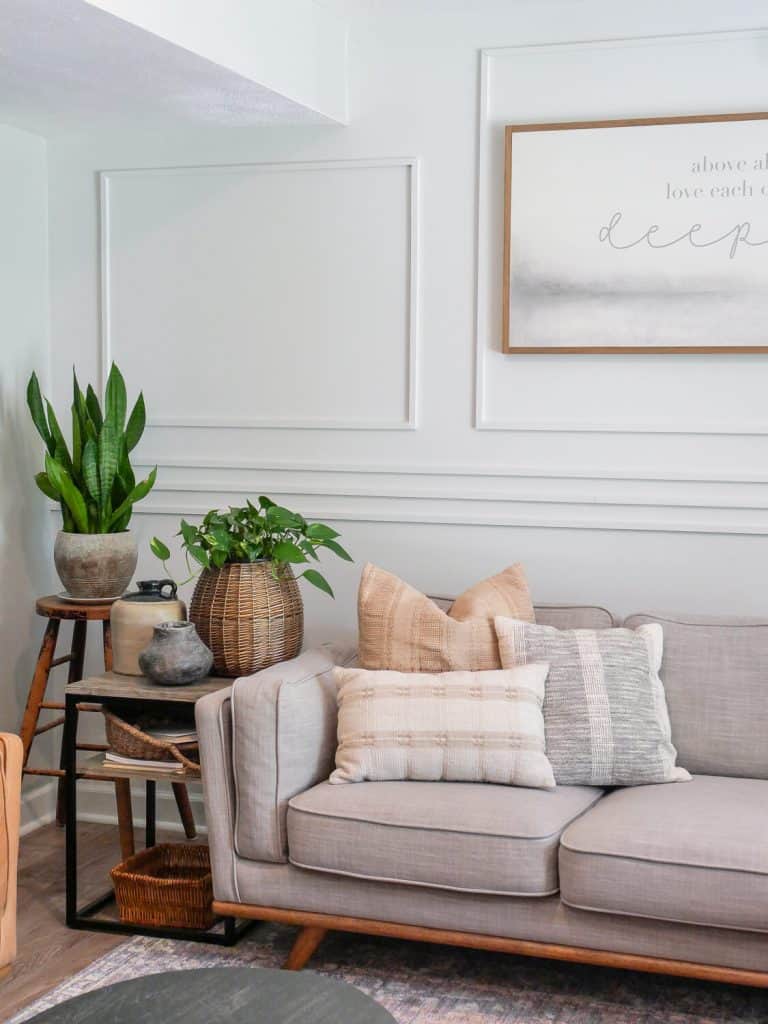 That's why it's important to start with inspiration.
One way to find inspiration is to keep an open mind and be willing to repurpose items. For example, a vintage suitcase could be transformed into a unique coffee table, or an old ladder could be turned into a chic bookshelf, or hanging laundry rack like I did in my home.
Let your creativity run wild and think outside the box.
Another way to find inspiration is to look for pieces that can be easily refreshed with a new coat of paint or reupholstered with a fun fabric. Don't be afraid to mix and match patterns and colors to create a cohesive look.
(See how I transformed this dated and damaged thrifted console table!)
It's also helpful to have a general idea of the style or aesthetic you're going for.
Browse home décor magazines or Pinterest boards for inspiration and make a list of the key elements you want to incorporate into your space. This will help you stay focused while still allowing for flexibility as you come across unique finds.
Overall, decorating with thrift store finds requires a bit of creativity and a willingness to experiment. But with a little inspiration, your thrifted home decor treasures can become the highlight of your home.
How to Decorate Second Hand to Fit Your Style
One of the easiest ways to decorate with second hand items is to understand the different design styles.
I've covered the most popular 12 design styles in this YouTube video. Make sure to watch if you're interested in learning about the specific characteristics of each style with some visual examples.
Understanding the various design styles will help you key in on which one your personal style most closely resembles. Once you know this, you'll be able to pin point thrifted furnishings that fit with your style and avoid those that don't.
This will make incorporating thrift store finds into your home much easier.
Another way to seamlessly integrate thrifted home decor is to find classic and neutral pieces. Items like white dishes, linen sheets, clean lined furnishings, woven baskets and simple pottery or vases will mesh well with almost any design style.
The trick is to simply keep it neutral, simple and classic.
You can learn more about specifically incorporating antiques into a modern home in this video.
Summary: Thrift Shopping Tips for Home Decor
In conclusion, successful thrift store shopping for home decor requires a combination of timing, quality checking, thinking outside the box, negotiating skills, knowing where to look, and finding inspiration.
By following these insider tips and tricks, you will be able to navigate the thrifted home decor scene like a pro and score the perfect piece for your home.
Remember to keep an open mind, repurpose and DIY, and negotiate for the best price. As the saying goes, "one man's trash is another man's treasure," so happy hunting!
More Decorating Tips
If you're looking for more decorating ideas, make sure to browse the home decor archives!
Thanks for stopping by the blog today! Make sure to subscribe to get my Grace Notes directly to your inbox and to access all my insider perks. You can also follow along daily on Instagram and weekly on YouTube!
~Sarah