20 Boy Cave Ideas for Teens and Pre-Teens 2023
We've all heard of the man cave. But what about that tender age for our boys who've entered their pre-teen and teen years? Let's create an awesome teenage man cave with these 20 boy cave ideas for teens and pre-teens!
Post may contain affiliate links for your convenience.
Boy's Bedroom Ideas
One of the things I was most excited about in our new house is getting to design the kids' rooms. However, this time around, my son wanted to design his own space!
In our last home, his room was almost triple the size of this space with some very unique design elements. So he had the challenge of turning this small room into something just as special.
He did a great job with his teen room design and I took a day and put it into action.
His boy's room decor ideas are classic and straightforward. I love that it isn't too themed and will grow with him as his interests change deeper into his teen years.
Plus, he has a small bedroom so we didn't have a lot of space to work with. His boy's bedroom ideas for small rooms packs a lot of personality into a tight space.
We kept the boy's wall decor to a minimum and just let the brick wallpaper make a statement on it's own. However, there is plenty of room above the bed to add artwork or wall decor later if he finds something he loves.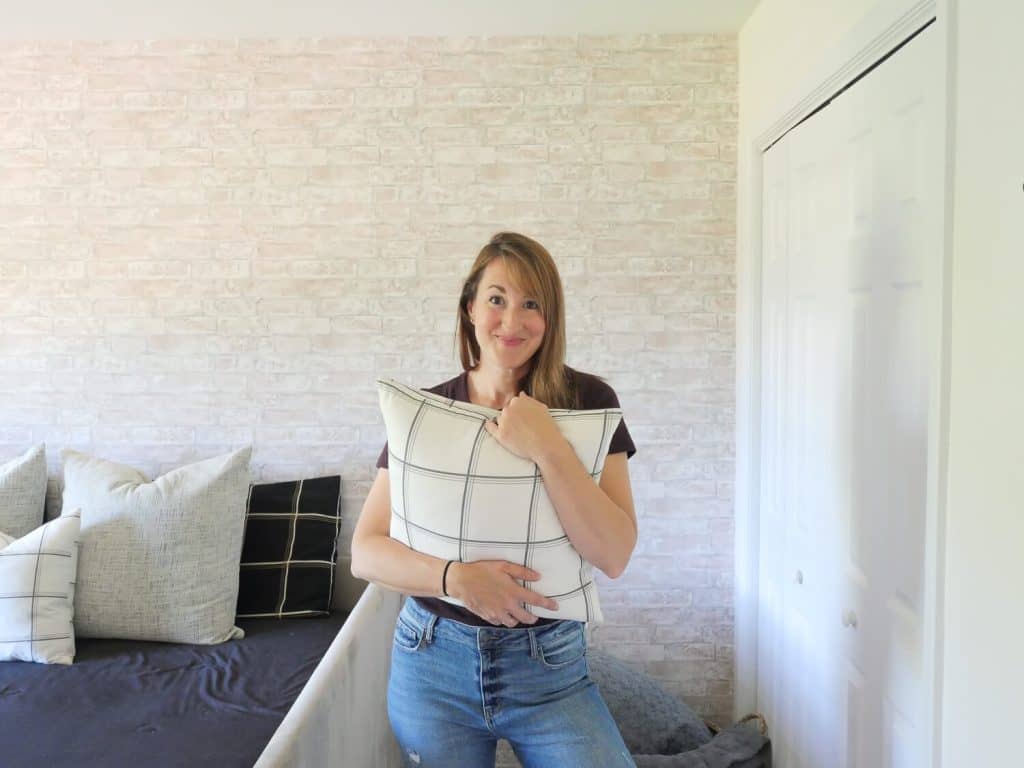 Then, I styled his desk for homework along with a simple storage cabinet for his trophies and favorite sports memorabilia.
On the other side of the room I displayed the sword that he made with his grandpa.
It's a small room, but there are touches here and there of things that are special to him! It has everything he needs to hang out, sleep and do homework.

Boy's Bedroom Ideas for the Sports Enthusiast
My son is more into sports and outdoorsman activities than anything else. Here are some of the boy's bedroom ideas we implemented, plus a few more for the sports enthusiast.
Boy's Bedroom Ideas for Small Rooms
For those with a tight space like mine, here are some boy's small bedroom ideas that will give you storage, style and functionality!
Boy Cave Ideas For the Gamer
If you have a gamer in the family, here are some specific set ups for additional teenage bedroom ideas.
Teenage Man Cave Hang Out Ideas
If you have a larger area to work with, try adding a few extras. Soft seating for when friends come over, plus a combo game table, will make your boy cave the hang out spot of the neighborhood.
Stay Connected
Thanks so much for stopping by the blog today! I hope these 20 boy cave ideas were a helpful jumping off point for your teen man cave.
Maybe your son is into music, reading, sci-fi, movies, or art instead. It's so simple to swap in your child's interests into a space with some simple character and basic elements like we did in Owen's room.
See how to install peel and stick wallpaper in this tutorial.
Thanks for stopping by the blog today! Make sure to subscribe to get my Grace Notes directly to your inbox and to access all my insider perks. You can also follow along daily on Instagram and weekly on YouTube!
~Sarah