How to Decorate An Airbnb on a Budget for 5 Star Reviews (2023)
Vacation rentals can be a booming business! Airbnb, VRBO, booking.com and more platforms are making it accessible for those who want to start up another revenue stream. In spite of that, you might be feeling overwhelmed at all there is to do to begin. The good news is, it doesn't have to be difficult. Learn how to decorate an Airbnb on a budget! Plus, learn what makes an attractive Airbnb so your guests give you a 5 star rating every time.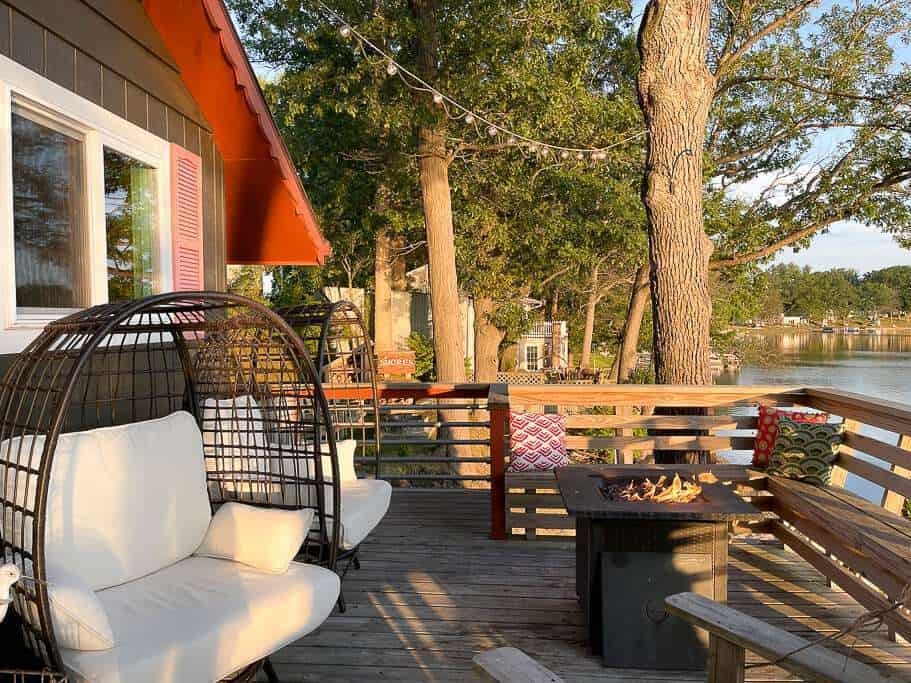 This post may contain affiliate links for your convenience.
Our Airbnb: The Haven Cottage
When we started our journey with The Haven Cottage in 2021, we never planned to open an Airbnb.
Was it in the back of our minds that it was a possibility? Yes.
Were we planning to use it as anything more than a vacation home? No.
However, along the way we decided that we could easily enjoy the cottage as a family whenever we wanted, while opening it up for others to enjoy as well! It has given us great pleasure to welcome guests into the cottage.
We Achieved Superhost Status in 4 Months
"Our stay at the Haven Cottage was exactly what we needed. It was exceptionally clean and charming. Eating dinner on the deck watching the sun set was picturesque. Very comfortable bed and perfectly cozy family room. Not upset at all to stay in and watch movies and football all weekend! Will definitely be back!!"
To be a part of their story, their memories, is an honor we don't take lightly.
Through the process we learned a lot about decorating a rental house on a budget and a timeline. My many years of decorating and design experience were a great help to get us up and running quickly. And, I'm excited to pass that knowledge along to you in your new adventure!
How To Decorate An Airbnb on a Budget
Learning how to decorate an airbnb on a budget can be broken down into several planning steps.
Decide if you will be accommodating younger children or large parties in your short term rental (each will have different needs).
Assess your guests' needs based on that decision.
Create a list of furnishings required for basic comfort in every room in your Airbnb. (See my lists, below, as a starting point!)
Determine which pieces of furniture/home essentials you need to buy/add to meet the needs of guests and to fill in gaps on furnishings.
Make a checklist of basic necessities you want to include and are stated in your listing.
Choose an overarching design style that will become the theme of your Airbnb.
Make a list of decor pieces that will serve the needs of guests and enhance your Airbnb's aesthetic. (If it doesn't serve a need for guests, consider whether or not to include it at all!)
Set your realistic budget based on the larger ticket furnishings needed.
Hit the ground running with your lists and overall design aesthetic in mind.
Keep reading to see how to take action and where to buy your furnishings on a budget!
Best Places to Purchase Airbnb Furnishings on a Budget
While it would be very easy to walk into a department store and buy everything you need in one shopping trip, it will likely cost you the most as well!
When we furnished the cottage, I put some time and effort into strategically buying furnishings and home decor. Most of the time, a DIY project, some extra searches online, or thinking outside the box will cut down on your investment greatly!
Here are the top sources to decorate an Airbnb on a budget.
Facebook Marketplace or Craigslist
The first thing you will want to decide is which pieces you want to buy new and which you are willing to buy second hand and put some elbow grease into.
Facebook Marketplace and Craigslist are both amazing options to find larger furnishings at a steep discount. You can easily find items like:
Gently used mattresses (take care to ensure these are cleaned professionally if buying used)
Dressers
Bookshelves
Coffee Tables
Nightstands
Sofas
Arm Chairs
Area Rugs
Dining Tables
Bed Frames and more!
For our Airbnb, I purchased all my nightstands, our entry console table, lamps, and some accessories for under $100 on Facebook Marketplace!
If you need a tutorial on how to update used furniture, check out these articles!
Thrift Stores
Next on the list of best second hand purchasing options are thrift stores. This is easily the best place to purchase:
Set of dishes
Glassware
Coffee Mugs
Kitchen Utensils
Toaster (ensure it works properly and is clean)
Lamps
Baskets/storage solutions
Throw blankets (launder before use)
Books/games
Mirrors
Home decor accents
Smaller furniture
You can buy so much of the smaller items needed to furnish an Airbnb at a fraction of the cost of buying new. This might take more time and you'll likely need to be frequent visitors to your local stores to find the best deals.
Antique Stores
One often overlooked sourcing option for decorating an Airbnb is antique stores.
While antique stores aren't known for being budget friendly, you can often find great deals on very unique items. This is especially helpful when you want your decor to stand out as special and curated.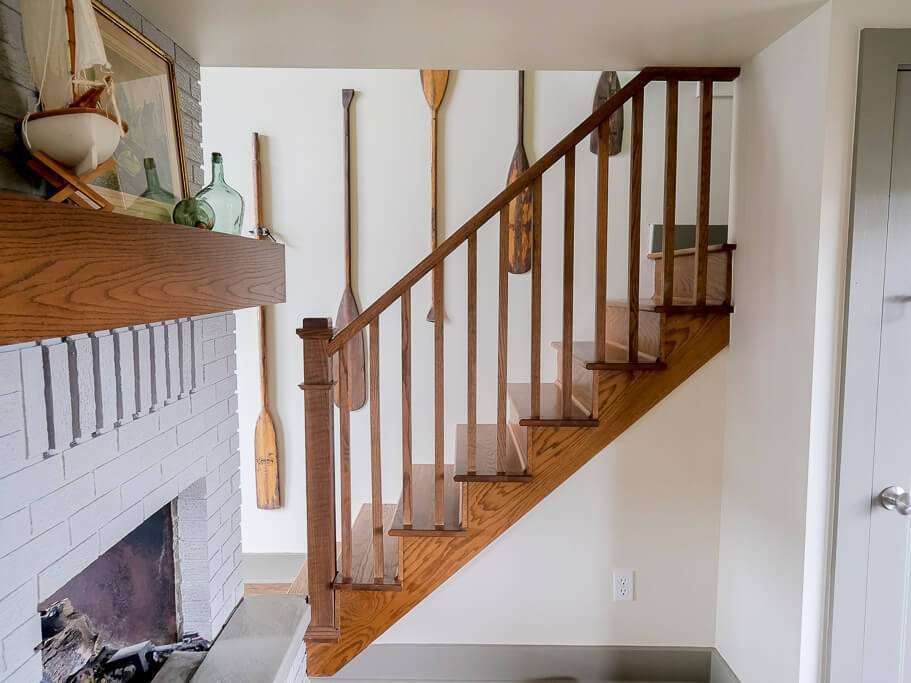 Since my recommendation would be to decorate sparingly, choosing out of the box decor that makes a statement will go a long way in making your Airbnb notable.
The quirky items you find at antique stores also add a ton of charm and character to your Airbnb that will be extra memorable.
Amazon/Walmart/Target
My next and final recommendation would be the three super stores of America.
Anything you can't find secondhand, you can find most affordably at Amazon, Walmart or Target.
Of course, there are dozens of other online options, but if you're looking for expediency, budget friendly and a wide selection, those are my top three go-to stores.
The majority of our Airbnb bedding and decor accents were purchased online. This makes for an easy record to re-order when items become worn out.
What Do Airbnb Guests Want Most?
As you assess the needs of your guests, keep in mind the things that most guests will critique you on after their stay.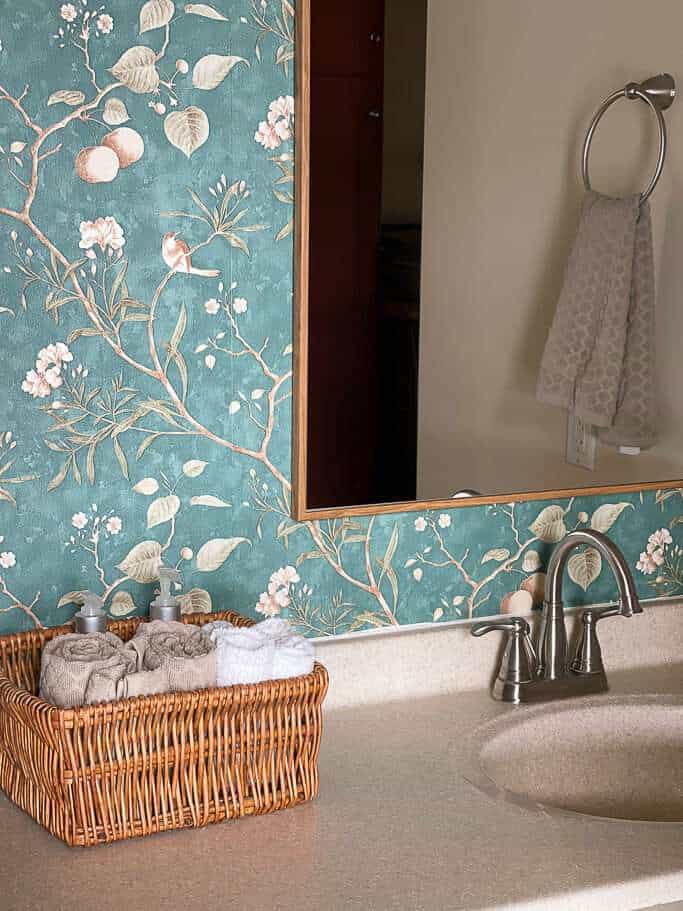 The Basics
A Clean Home: Cleanliness is the number 1 killer to a 5 star rating, and has nothing to do with decorations!
Privacy: Have you provided adequate window coverings or privacy fences at your Airbnb?
Location: Are you close to anything that makes your Airbnb stand out as a destination? Take advantage of that in your marketing and home design!
Honesty: Guests will not appreciate a deceptive listing. Honesty is the best policy!
Good Communication: Give your guests everything they need to know up front, and always be available for questions.
Basic Necessities: No TP? That's a problem. Provide the basic necessities for your guests' convenience. Be up front in the listing as well! It can be as simple as saying, "5 rolls of toilet paper, a box of Kleenex, and a roll of paper towels are included." Then, guests can assess ahead of time if they will need more than what is provided when they do their shopping.
The Extras
Quality Linens and Towels: Dingy or ratty towels and sheets can communicate an unclean Airbnb. Make sure you're keeping up on replacing linens when they need retiring.
Coffee Bar/Supplies: Coffee is the way to many-a-guests' heart. Make it feel like a retreat for them with a simple coffee bar!
Comfortable Mattress: If your guests aren't sleeping well, they likely won't be returning to or recommending your Airbnb!
Modern or Quirky Design: If your Airbnb is extremely outdated, it will give a return to update it! You can go one of two ways:

Remodel it for a modern, up to date, design that will attract many viewers.
Go quirky with your design that makes your Airbnb stand out as a destination, rather than just a rental.

Extras Included For Special Accommodations: As an example, beach toys/chairs/towels are all amazing extras to offer for waterfront locations as they would be cumbersome to travel with.
Information About the Area: Grocery stores, restaurants, attractions, convenience shops, etc.
As you can see from this list, very few items are decor related! So rather than getting stuck on decorations, focus on guests' needs first, and the design can follow.
How Much Does It Cost to Furnish an Airbnb?
Decorating an Airbnb on a budget will be different for everyone.
A single room apartment simply has different needs than a 6 bedroom home that sleeps 15.
On average, you can spend anywhere between $1,500 to $25,000 to furnish an Airbnb.
Yes, that is a ridiculous range! However, it just depends on how many rooms you're furnishing and how many guests you are accommodating. Plus, some Airbnbs market themselves as an Experience. These high-end experiences should offer higher quality furnishings and extras than a traditional vacation rental.
Now, let's get into decorating advice!
What Makes An Attractive Airbnb?
When planning your Airbnb design, consider what you would want in a home away from home.
Cleanliness, comfort and ease
No unnecessary work
An enjoyable space to look at
Adequate supplies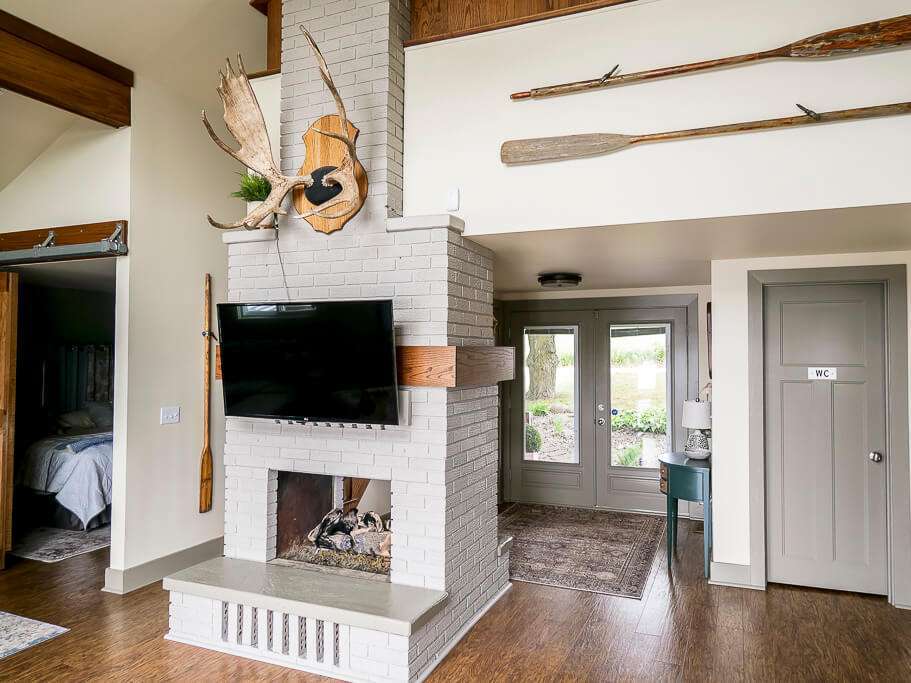 Make your Airbnb furnishings as simple as possible so that guests aren't fumbling through a bunch of decor to find basic necessities. This will also help keep your budget down if you focus on necessities rather than extras.
Focus on the Big Picture
Start with a clean color palette. Neutral walls allow a lot of flexibility when it comes to furnishings and decor. A clean white or soft taupes/greys are perfect for walls. (Keeping in mind that wear and tear shows more on white walls.)
Next, use multi-purpose furnishings to decorate an Airbnb on a budget. Sofas that have pull out beds, nightstands that serve as dressers, and kitchen islands that have bar seating are all great ways to make your furnishings serve double duty. This cuts costs quickly.
Use wall decor sparingly. Wall decor is an easy and quick way to dress up a room. However, it is also easily damaged and subjective. What one person thinks is beautiful art may be ugly to another. Instead, focus wall decor on items that are useful like mirrors, a well-done map of the area, or framed photos of the landscape around your Airbnb location.
Offer multiple sources of lighting. Overhead lights are wonderful, but many people prefer softer lighting. Use table lamps, wall sconces, and floor lamps to provide a cozy atmosphere. Lamps serve a practical purpose while adding to your decorations.

Make sure you are providing lit entryways for guests who arrive after dark.

Decorate and furnish with convenience in mind. Label light switches, place daily dishes in obvious cabinets, have an organized supply cabinet for basic necessities and keep clutter to a minimum.
Use wallpaper or wall treatments to add personality and style to your home without adding decor.
Choose decor that is washable and non-breakable to reduce replacement costs.

Washable rugs
Pillow covers and sofa slipcovers that can be removed and washed
Durable bedding for frequent washing
High quality towels that stand up to tons of use
Non-breakable decor and dishes (Ex: very few glass items)
How Can I Quickly Decorate An Airbnb?
If your focus is on guests' needs, then decorating an Airbnb is actually quite simple.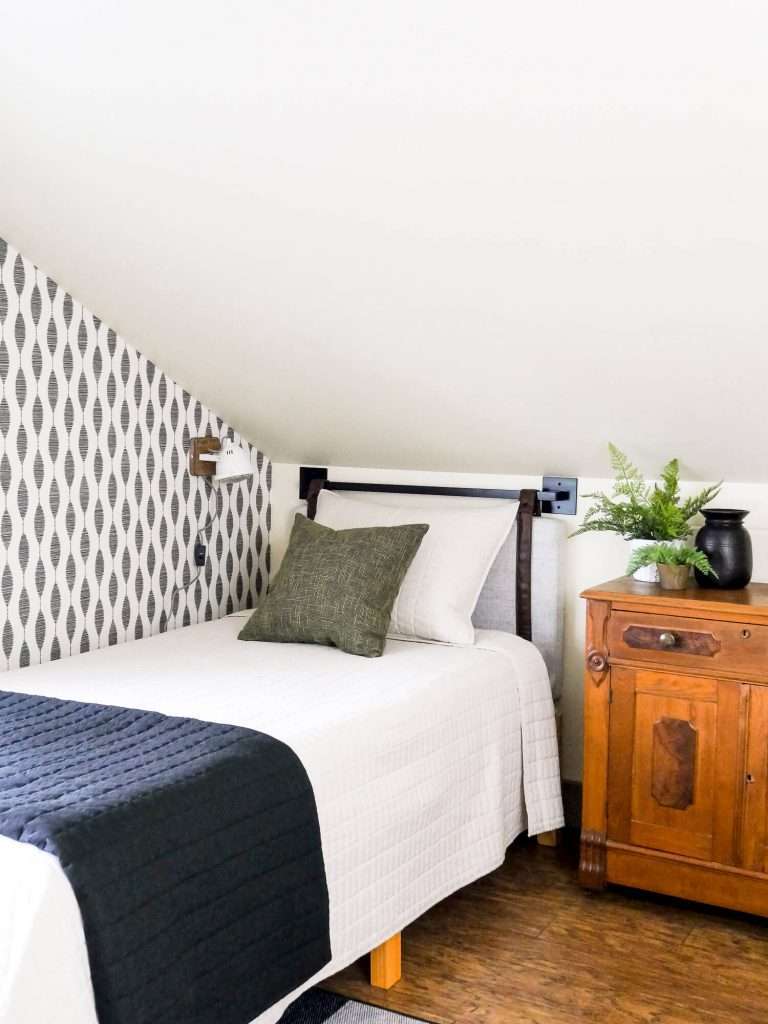 You can quickly decorate an entire home by focusing on quality bedding, comfortable furnishings and basic supplies.
Airbnb Furnishings Checklist, By Room
Let's break it down into an easy checklist for each standard room.
Each bedroom should include at least the following:
Sturdy bed frame
Comfortable mattress
Window coverings that offer privacy
Two sets of quality sheets per bed
Mattress cover
Protective pillow covers
Comforter
Extra bed blanket
Throw blanket
Pillows + Extra in the closet
Hangers in the closet
Nightstand
Bedside lamp
Small dresser (or nightstand/dresser combo)
Bench or luggage rack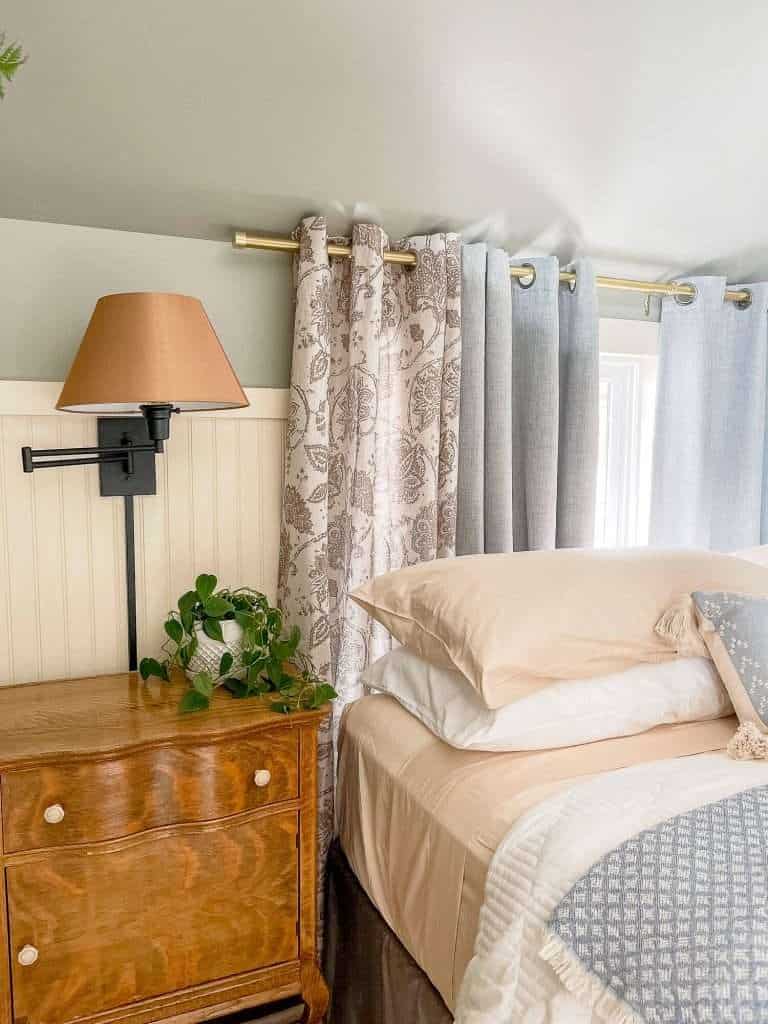 Comfortable sofa, arm chairs, or sectional with enough seating for the number of guests you've advertised being able to accommodate.
Extra throw blankets
Window Coverings
Throw pillows
Coffee table
Lamp
Tray tables if other dining arrangements aren't close by
TV
Vacuum
(Extra) Basket with games, magazines, books, or other leisure activities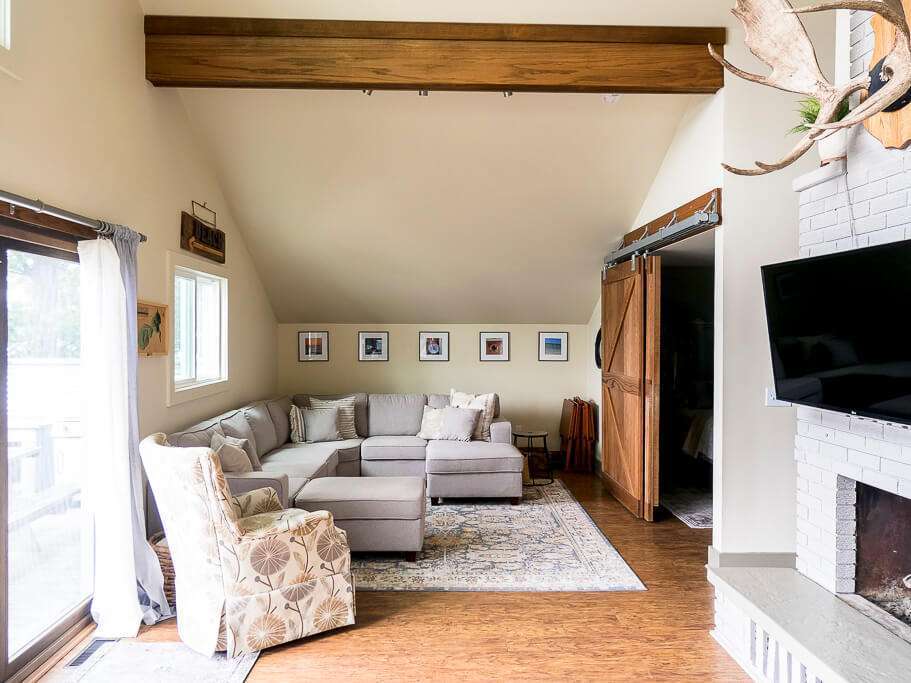 Basket with neatly folded hand towels and wash cloths
Bath Towels (Double the amount of guests you accommodate)
Window Coverings
Soaps and lotions
Shampoo/Conditioner/Body Wash Dispenser
Toilet Paper
Kleenex
Hair dryer
Laundry detergent
First aid kit
Bath mat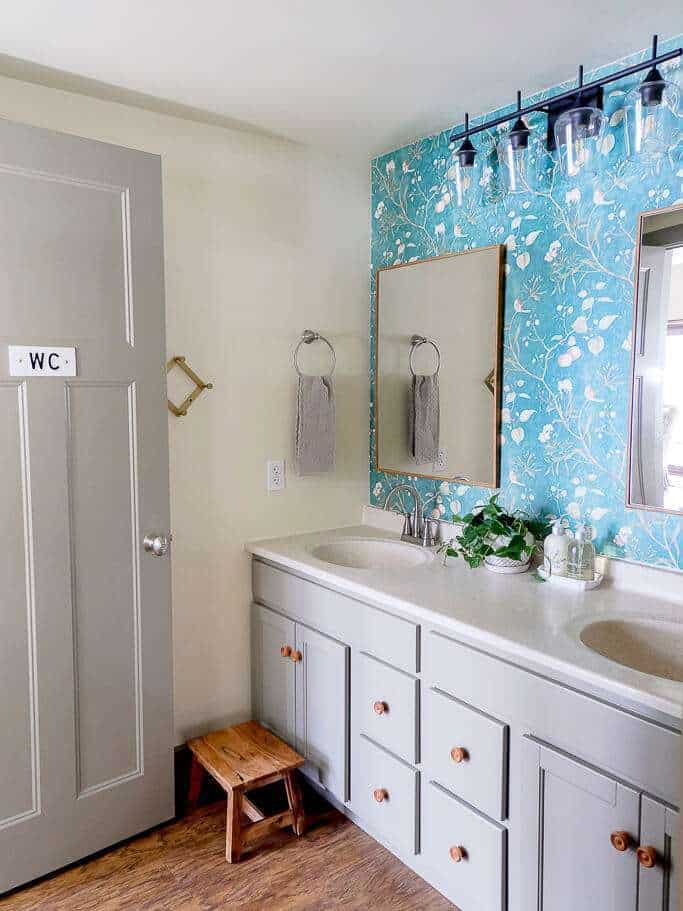 Full set of dishes, cups, coffee mugs, utensils, cooking utensils, steak knives
Pots and pans
Baking sheets
Pitcher
Coffee maker with accessories
Toaster
Microwave
Dish soap and supplies for washing dishes
Hand soap
Hand Towels
Serving dishes
Mixing bowls
Basic spices
Measuring cups/spoons
Cooking spray/oil
Paper towel
Broom/Dust pan
Grill utensils (if applicable)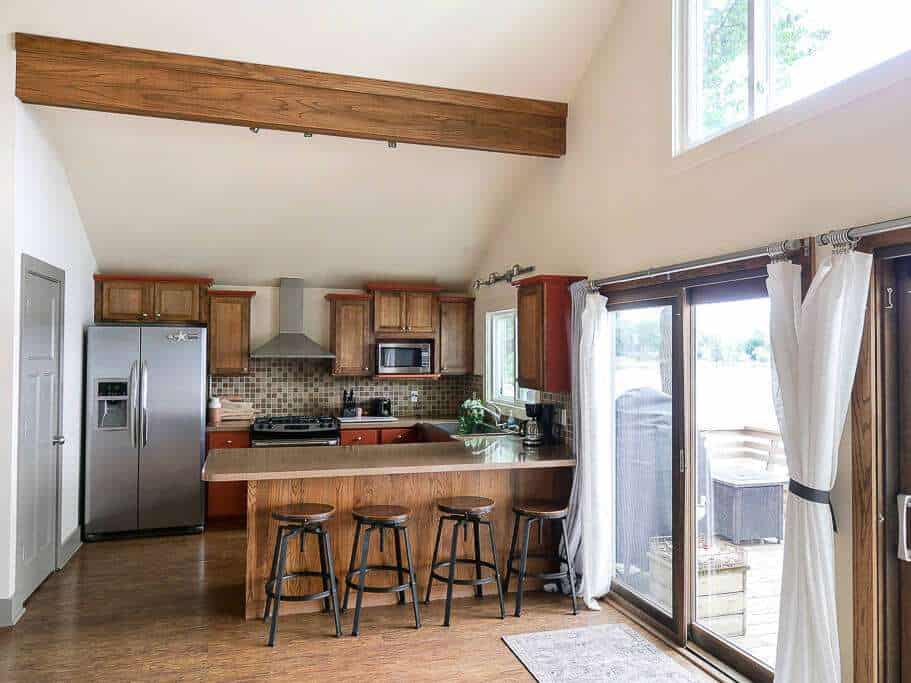 Table and Chairs large enough for your number of guests
Coasters
Napkins
Of course, if you also have a bonus space, rec room, loft, basement or outdoor areas, you can make a list of furnishings to make those spaces most enjoyable and functional!
As you plan how to decorate your Airbnb on a budget, think of ways you can make your vacation rental stand out from others in your area. Adding just a few extras can go a long way in making it an attractive option to get you more bookings!
My Airbnb Decor Sources
If you're looking for specific sources from my Airbnb, you can find the shoppable items below!
Our short term rental decor is very humble and straightforward. It makes it easy for guests to enjoy themselves while being comfortable!
Of course, you can always add more than my basic recommendations. However, remember that the more decor you add the more opportunity for damage/replacement costs if accidents happen.
If you're interested in our paint colors at the Haven Cottage, or our renovation process, you can learn more below!
Paint Colors

Main Wall Color: Bone White by Benjamin Moore
Trim, Doors & Bathroom Vanity: Studio Clay by Sherwin Williams
Main Bedroom: Custom mix with Old Celadon as the base
Questions on How to Decorate an Airbnb on A Budget?
Do you have any questions on how to decorate an Airbnb on a budget that I didn't cover? Leave them in the comments and I'll respond and also update the post!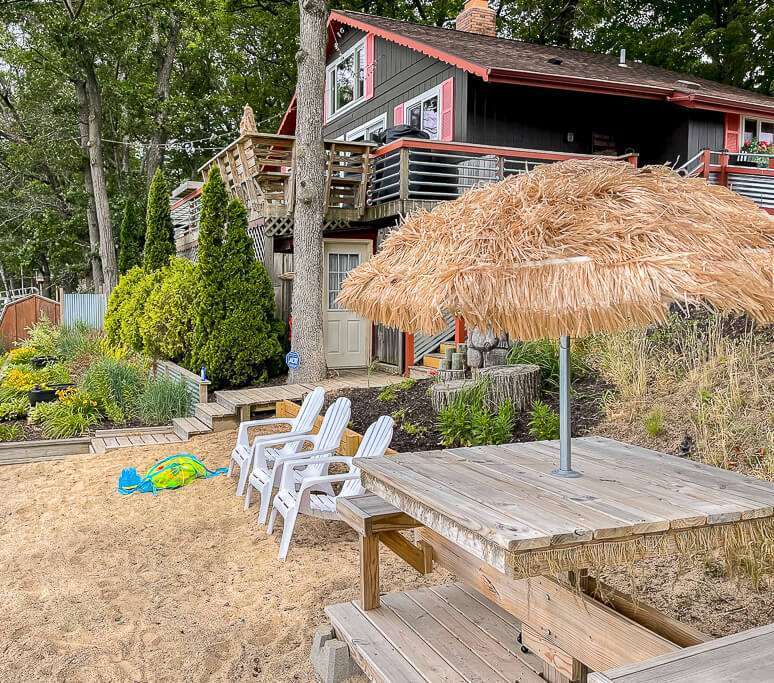 While I covered a lot of information in this post, I also have some general decorating tips that might be helpful to you as you plan your Airbnb decor!
Browse my articles on designing and decorating a home here. Plus, if you want to learn more about how to update your short term rental on a budget, dive into some DIY projects that will save you tons of money in the long run.
Thanks for stopping by the blog today! Make sure to subscribe to get my Grace Notes directly to your inbox and to access all my insider perks. You can also follow along daily on Instagram and weekly on YouTube!