15 Best Beginner Home Improvement Projects for the DIYer
Beginner home improvement projects are the perfect way to update your home affordably and quickly! This year especially, families have been taking their weekend home improvement projects by storm and have learned the value of DIY. So today I'm rounding up the 15 best DIY home projects!
This post may contain affiliate links where I earn a small commission on your purchases.
15 Best Beginner Home Improvement Projects
We all know that 2020 was rough. But many families took the extra time at home to invest in affordable home improvement and will see the value from that for years to come! Often, people assume that home improvement projects need to be elaborate or full renovations to make an impact. But I'm excited to show you today how these 15 cool home improvement ideas transformed our home!
Since not all home DIY projects are created equal, I'll group these 15 projects into categories. All of them are beginner home improvement projects, and most of them I completed by myself! So even if you don't have help, many of these are feasible to accomplish solo.
If you are new to DIY, or want to know what type of tools you need to accomplish most of these projects, make sure to subscribe to the blog! I have a free download to get every DIYer up to speed on what they should have in their tool kit. Plus, it gives you access to my free printable library and project guides.
Weekend Home Improvement Projects
Let's start with some of the more taxing projects and work our way to the easy ones! These projects can be accomplished in a weekend, but may require two sets of hands.
DIY Ceiling Beams
One of the quickest ways to add value to your home is to add character. Ceiling beams are a beautiful way to make a big statement, but they can be expensive and difficult to install if you are using real beams. So, during my guest house remodel, I decided to install faux ceiling beams!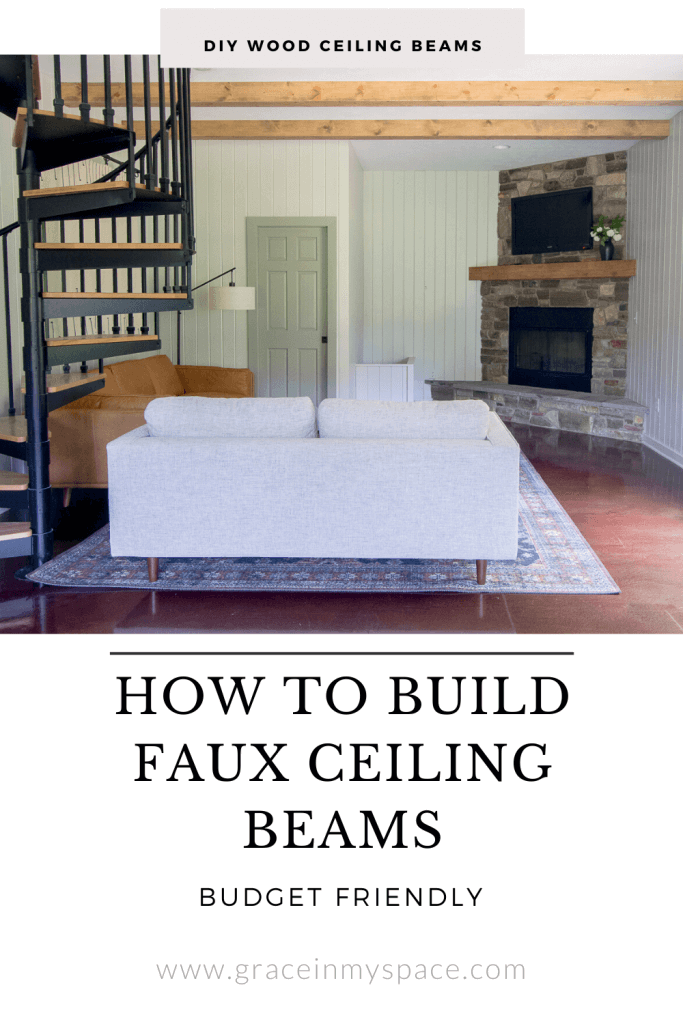 This budget friendly DIY project is best completed with two or more people to make installation easier. However, the woodworking aspect of the project is very beginner friendly. Plus, I was able to have these installed for less than the cost of store-bought beams! You can find the full faux ceiling beam tutorial here.
Budget Bathroom Remodel
Do you have a small bathroom that needs a serious update? So did I. This small bathroom remodel was by far my most popular DIY of the year, and it only cost me $300!
Head to the tutorial for all of the changes that I made to this bathroom and how I refinished that pink countertop for $4!
Outdoor Updates
Next, let's chat about ways to improve your outdoor spaces. We focused on the outdoors for the majority of the spring and the projects we worked on made a huge difference to our home. While there are many different size yards and outdoor living spaces, these projects can be modified to fit your home!
How to Lay a Flagstone Path
This is my favorite outdoor DIY project we tackled! We took a perpetual mud pit and transformed it into a beautiful pathway, garden and sitting area. I love that this can be adjusted to the size yard you have, or even just used as a pathway to your front door. You can find the full tutorial for how to create a flagstone path here.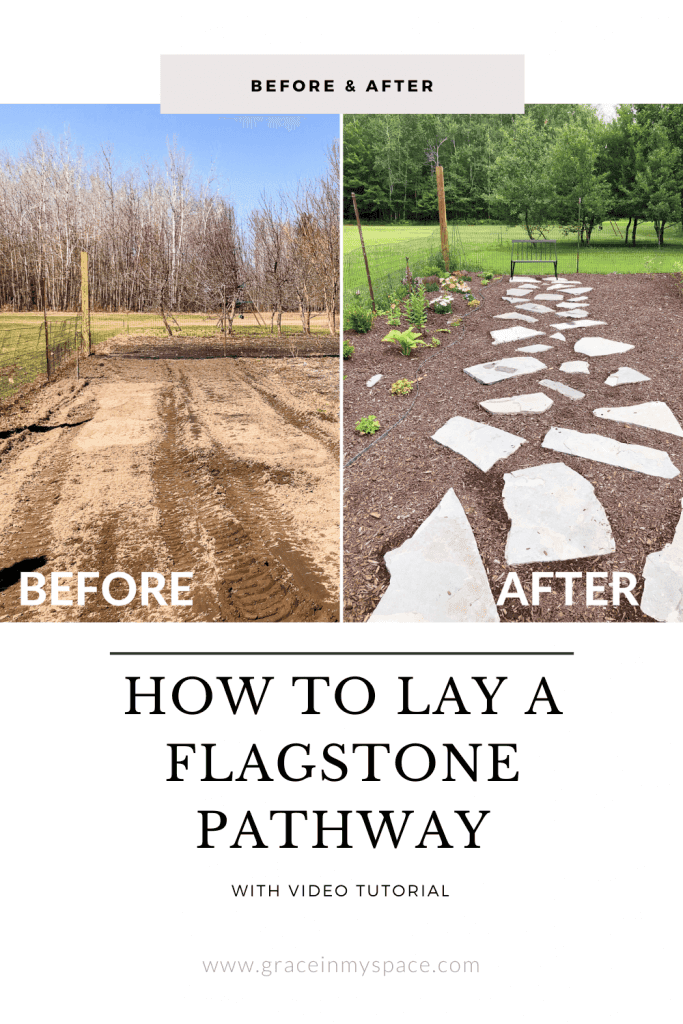 While this was one of the more expensive projects, we were able to fit it into the budget by doing all the work ourselves. Including moving 2,000 pounds of stone by hand! This is where the DIY part of a project gets real and you have to remember that short term pain (literally in this case) will have long term benefits!
How to Paint a Wood Deck
The second huge outdoor DIY we tackled was painting our wood deck. This was quite the undertaking! While the project wasn't complicated or hard, it was very time consuming. Had I used a paint sprayer, it would have been much quicker and easier to complete in a weekend.
However the transformation is unmistakeable! Head to the tutorial where I talk about the deck paint we used, plus how we applied it. You won't believe the before photos!
How to Build a Raised Garden Bed
The last outdoor DIY project I completed is DIY raised garden beds. I LOVE the tool-free method I found to create wood garden beds. It was extremely simple, economical, and I was able to do it by myself to create a huge raised bed.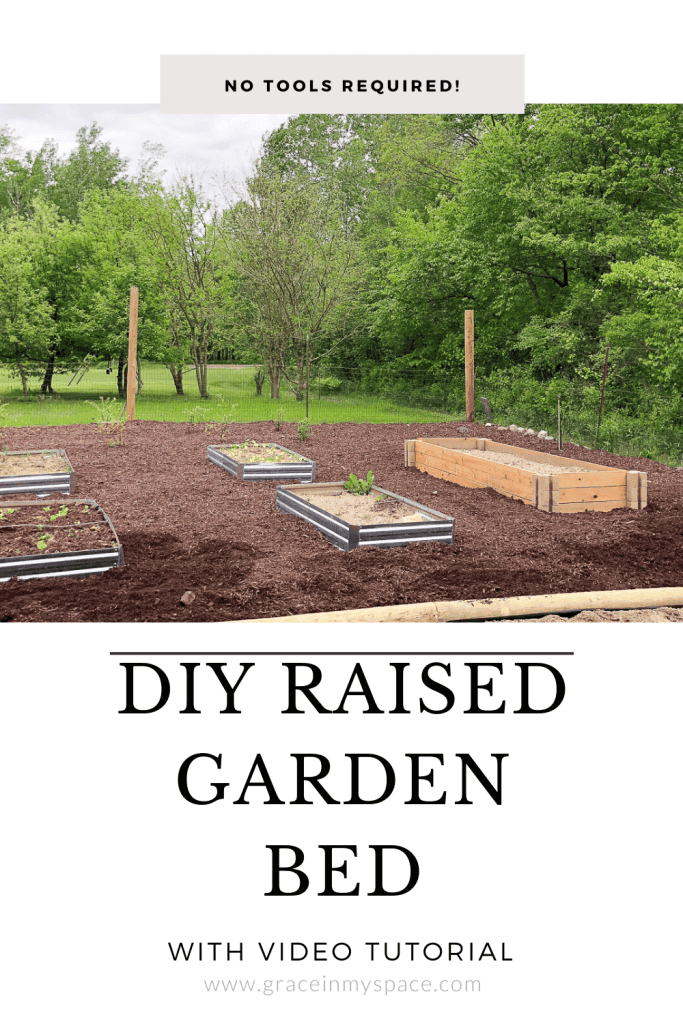 My flowers grew so beautifully in this bed this summer and I already can't wait to plant in the spring. You can find the full raised garden bed tutorial here along with the links to materials.
Accent Wall Features
The next category is one of my favorites. Adding accent walls makes such a big impact to a space, without adding "stuff". Building out character with accent walls transforms a room as quickly as paint does, and these were a few fun projects that made a big statement.
How to Install MDF Shiplap
This project will always hold a special place in my heart. My son and I installed the shiplap in his room together. And if I can do it alone with a 9 year old, then this definitely falls into the beginner home improvement category!
I've installed shiplap a few different ways and using MDF was my favorite. You can find the full shiplap tutorial here.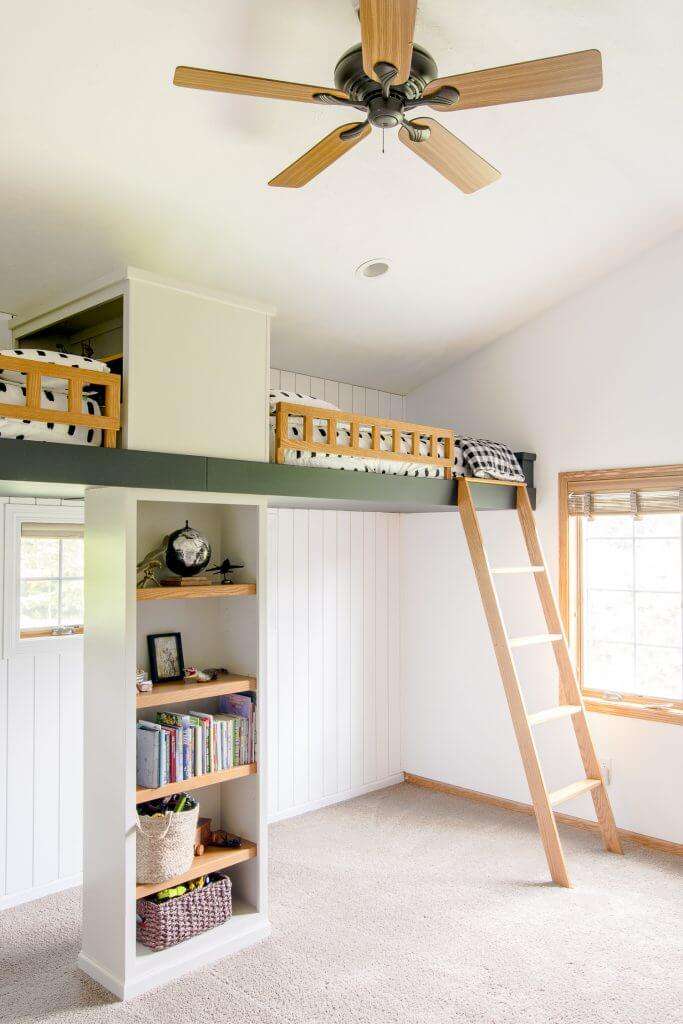 Simple & Modern Accent Wall
Then, in the basement I created an entirely different look and feel with a simple and modern accent wall. This is one of the easiest accent walls I've ever installed and I love how the different pattern made it unique.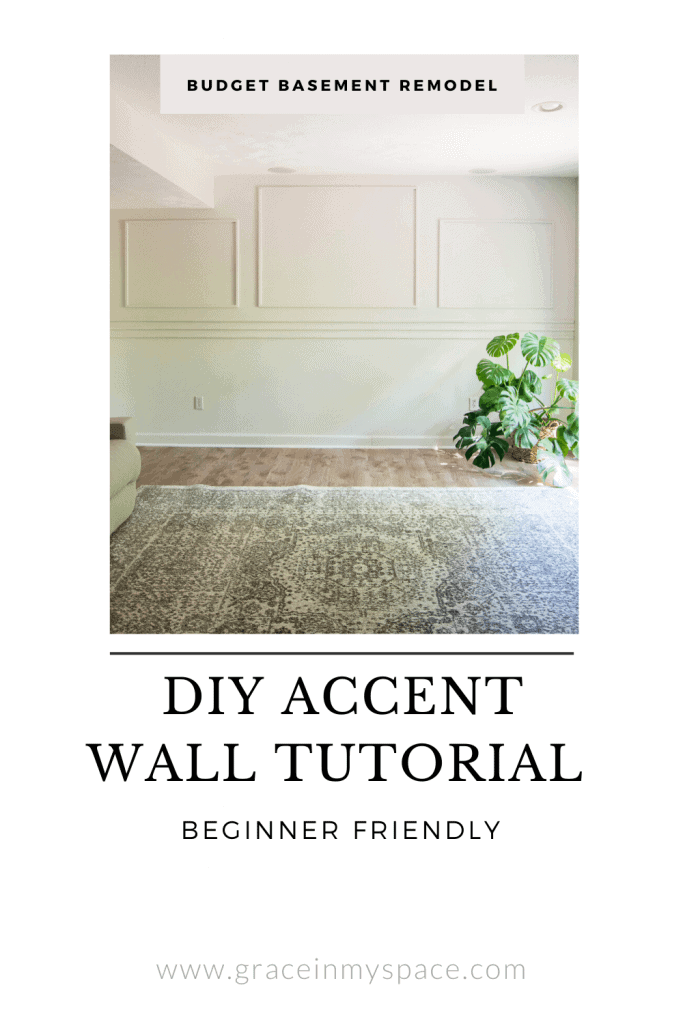 Plus, this method helps to mask unsightly parts of a home! By designing my accent mouldings around our duct work, I was able to help blend the ceiling lines by creating an optical illusion. It dressed up our basement family room instantly. Full accent wall tutorial here.
Faux Mantel Focal Point
If you're looking for ways to create a simple focal point instead of transforming a whole wall, this faux mantel tutorial should be top of your list! This was another of my most popular DIY projects this year and can easily be adjusted to accommodate electric fireplace inserts.
Head to the tutorial for the finished look! Plus, I rounded up 10 ideas for how to finish out the middle in this post, if you don't plan to add an electric fireplace.
Beginner Woodworking Projects
Next, I was excited to dive into some beginner woodworking projects this year. I'd love to continue to beef up my carpentry skills, but for now I was happy to build some really useful projects in 2020!
DIY Wood Peg Rack
My favorite woodworking project this year is my DIY peg rack. When I remodeled the mudroom, I built my own peg racks to go around the perimeter of the room. We use these every day and they are an amazing storage solution. So much so, that I built another two for our garage later in the summer.
This is definitely a beginner home improvement project as I had never done anything like this before. You can find the simple peg rack tutorial here.
How to Create Custom Bi-Fold Doors
Another fun woodworking project I tackled is using wood trim to customize plain bi-fold doors. The before photos from this project are worth the look in this easy tutorial.
I used extremely affordable wood moulding and paint to create the look of custom doors from flat panel bi-fold doors. It changed the look of the entire room!
Faux Wood Beam Header
The next carpentry based DIY project is this simple wood beam header. It took me a bit to figure out some of the angles, but with this tutorial you should have no issues creating your own!
This is one of those beginner home improvement projects that you'll wonder why you didn't tackle before! It creates a custom look for a plain drywall opening.
Updating Furniture DIY Style
The next category that can make a big impact on the appearance of your home is simply updating or building your own furniture! Creating functional and beautiful pieces on a budget is easier than it seems.
How to Refinish a Vintage Cane Chair
Caned furniture has been a big trend in 2020. Ironically, it is actually a very old way to add detail to furniture! I'd had this vintage cane chair for years and finally decided to give it some DIY love.
Head to the tutorial to see how to update vintage furniture with caning!
DIY Built In Storage
Another one of my favorite beginner home improvement projects is from the mudroom project. That project was all done DIY style and I had to get creative with how I added storage solutions to the space.
After receiving a quote for custom built ins that made me cringe, I decided to find a way to create my own. Sometimes it just takes thinking outside the box and stacking three different pieces of furniture together to create a custom storage solution. 😉 You can see how I took a TV stand, kitchen cabinet and buffet and turned it into a custom piece in this DIY built in tutorial!
DIY Woven Bench
My DIY woven bench tutorial was another follower favorite this year! Woven furniture is very popular, but also very expensive! So I tried my hand at creating my own woven bench that is simpler than many tutorials available.
If you would like to try to build your own furniture, this is a great tutorial and very easy to accomplish without special tools.
Most Transformative Beginner Home Improvement Project
And now for the easiest, most affordable and most transformative home improvement project you could ever do. Paint!
For less than $100, one or two days, and zero experience, you can transform an entire room with paint.
Paint is the number one way to update your home, change the design style, or create a focal point in any home. It is such an affordable way to change a space. If you have a low budget, small timeline and little experience, paint is the first home update I recommend. You can see a quick tutorial for how to paint a room in 5 easy steps!
Stay Connected
I hope that these 15 best beginner home improvement projects from 2020 spur some ideas for you as you tackle your own home and make it yours! You can see 21 more easy home improvement ideas in this article, which I was honored to contribute to!
Plus, this article gives some great tips for beginner DIYers.
And, if you're looking for a round up of even more DIY ideas, check out my top 20 DIY projects from 2019!