20 DIY Home Projects for Beginners
Updating your home into a haven is such a rewarding process! Even though there are times I could have afforded to hire out a project, DIY renovation is still my preferred route. Today, I've rounded up my favorite DIYs from the last few years. Here are 20 DIY home projects that even beginners can tackle with confidence.
These are my most popular DIY tutorials that so many readers have used to update their own homes. It makes me so happy to know I can help others create a haven. Make sure to click through for the full tutorials!
This post may contain affiliate links where I earn a small commission on your purchases.
20 Best DIY Home Projects and Tutorials
I love a good before and after. Even better, knowing that I put in the hard work to achieve the final result! These DIY projects are some of my favorites and I hope they are helpful tutorials as you tackle your own projects.
Simply click the link to the full tutorial.
DIY Furniture Projects
DIY Coffee Table Refresh
One of my favorite DIYs ever is this coffee table refresh. When I bought it second hand all I could see where those legs! Wowza! It is still my favorite piece of furniture I've refinished.
How to Refinish a Table Top
My second most popular refinishing project is our dining table. This DIY furniture project was my first experience using a furniture stripper and it worked SO WELL! I still can't believe this beautiful wood was under all that dark stain.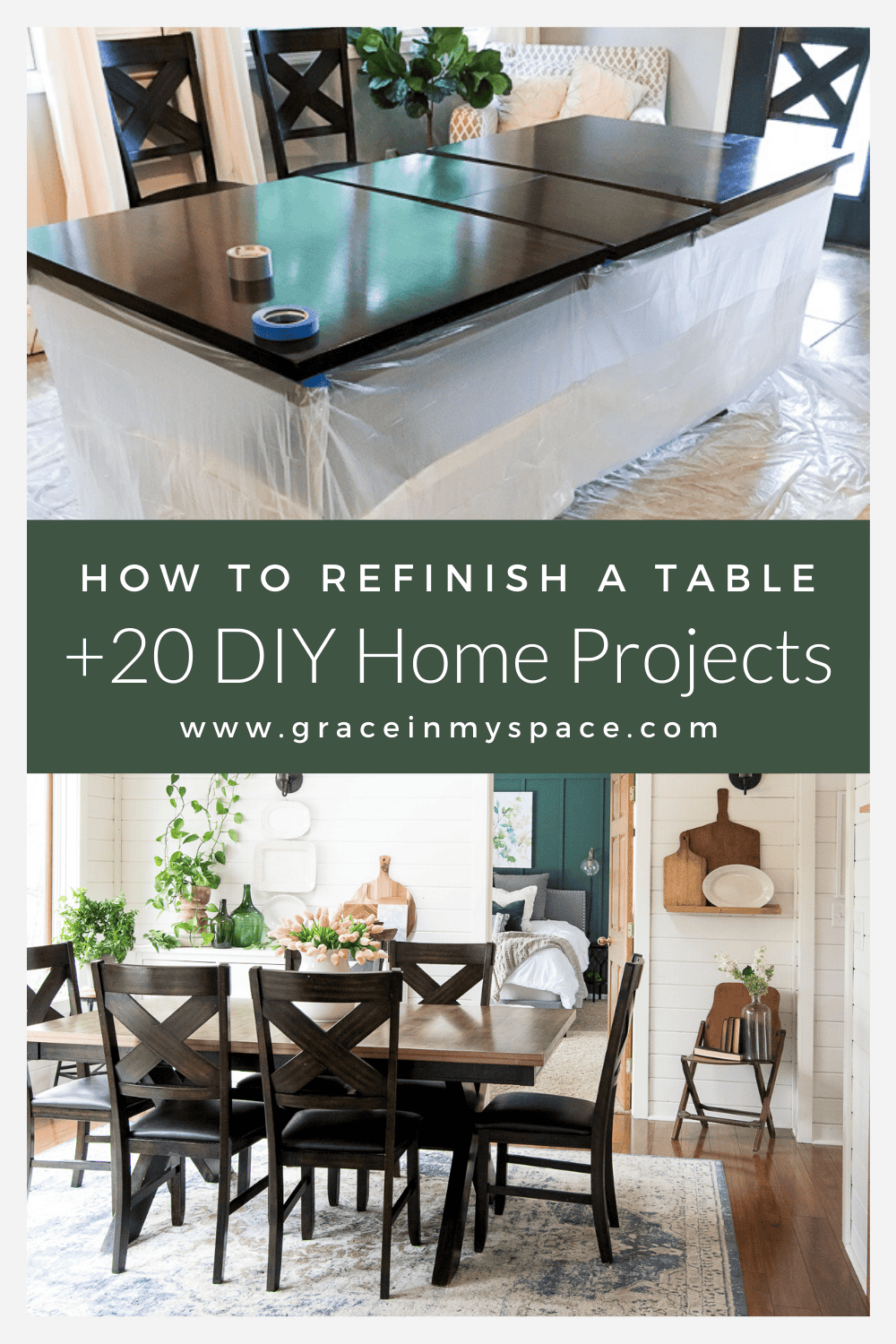 Updating Furniture with Paint
This buffet still served its purpose, but it was feeling bland. During my 2 days $200 remodel of the dining room, I transformed the buffet to a modernized version. It was such a simple project and completely changed the look of the room! Learn how I updated this buffet with paint.
Updating Furniture with Chalk Paint
I've used lots of different refinishing techniques over the years, and chalk paint is one of the most popular. I wanted to test out some different brands, and found that I love the Rustoleum chalk paint for its durability. Learn how I updated my son's bedroom suite with paint!
DIY Kitchen Remodel
How to Paint a Kitchen in 7 Days
My DIY kitchen remodel was the first major DIY home project I took on in our current home. I transformed the entire thing with paint and a little vision. It was an extremely time intensive project, but SO worth the effort!
Keep reading for more of the DIY home projects involved in this remodel!
How to Make DIY Floating Shelves
This project is perhaps the most visually appealing update we made to the kitchen. I love floating shelves and these were so inexpensive to make.
How to Paint a Tile Backsplash
Painting our tile backsplash, rather than replacing it, saved a huge amount of money in our DIY kitchen remodel. I used the same paint that I updated our cabinets with and it was extremely durable. This is one of my top 5 used tutorials on the blog!
Accent Walls
One of the easiest and most affordable ways to add character and customization to your home is to add wood accent walls. I prefer board and batten, and have done a few different projects with this method.
I plan to add more to our basement with a different method in the coming months! You can subscribe to the blog to be notified when new DIYs hit the blog!
How to Install Modern Board and Batten
I love how this modern board and batten transformed our entryway. It allowed me to pare down on the decor and make a statement without it being overwhelming.
Adding a Focal Point Accent Wall
My master bedroom remodel was the first DIY home project I did when we first moved into this house. The green is my absolute favorite (Regal Leaf by Magnolia), but again, the alternate board and batten design makes the space special!
Installing Non-Traditional Shiplap
Another of my favorite wood treatments is the shiplap accent I added to our basement family room. I love the look of shiplap, but wanted to simplify the installation process so we didn't have to make lots of cuts. This worked perfectly to help camouflage our TV and make our family photos pop!
Faux Shiplap Tutorial
And, if you love the look of shiplap but have $0 budget, THIS is the shiplap tutorial for you! Quite possibly the easiest and cheapest DIY you'll ever do. Also, make sure to check out my entire laundry room remodel that I did for $100!
Wood Projects for Beginners
One area of DIY that I've been enjoying more and more are beginner woodworking projects. I'm definitely not a master carpenter, or anywhere close, but I've enjoyed creating various projects to customize and add character to my home!
Faux Fireplace Mantel Tutorial
This faux fireplace mantel tutorial was the first time I've ever built something like this. I made it non-structural, but it could easily be built out to accommodate an electric fireplace. On my to-do list is creating an insert for the middle!
How to Customize Bi-Fold Doors
Along with the faux mantel, I updated our guest bedroom with customized bi-fold doors. This project was extremely affordable and made such a difference. I love that it can be altered to fit any design you love as well!
DIY Peg Rack Tutorial
Perhaps one of my favorite projects from my DIY mudroom remodel are my DIY shaker peg racks. These were SO easy to make and so much more affordable than buying them from a store. I plan to make more for my garage when the weather warms up!
Small DIY Wood Projects
Another fun wood project was this simple box I created as a centerpiece vessel. It was so simple to put together and can be used for every season! I saw something similar in a store and knew I could replicate it.
Projects To Update Your Home
Here are a few additional projects I love! These were simple ways to update existing design features to a more modern style. I love being able to take an existing space and put some lipstick on it with affordable DIY techniques. This is so much more economical than completely replacing architectural elements.
Painting Interior Doors
The fastest way I've updated my home is with paint. When we moved in, we lived with the oak trim for awhile, but I knew it wouldn't be long before we modernized the space by painting it.
The same goes for our doors. Our interior doors are solid, soundproof and quality. However, the orange oak isn't my style. So I've been slowly painting them. Here is a tutorial for how to spray paint interior doors to get a flawless finish!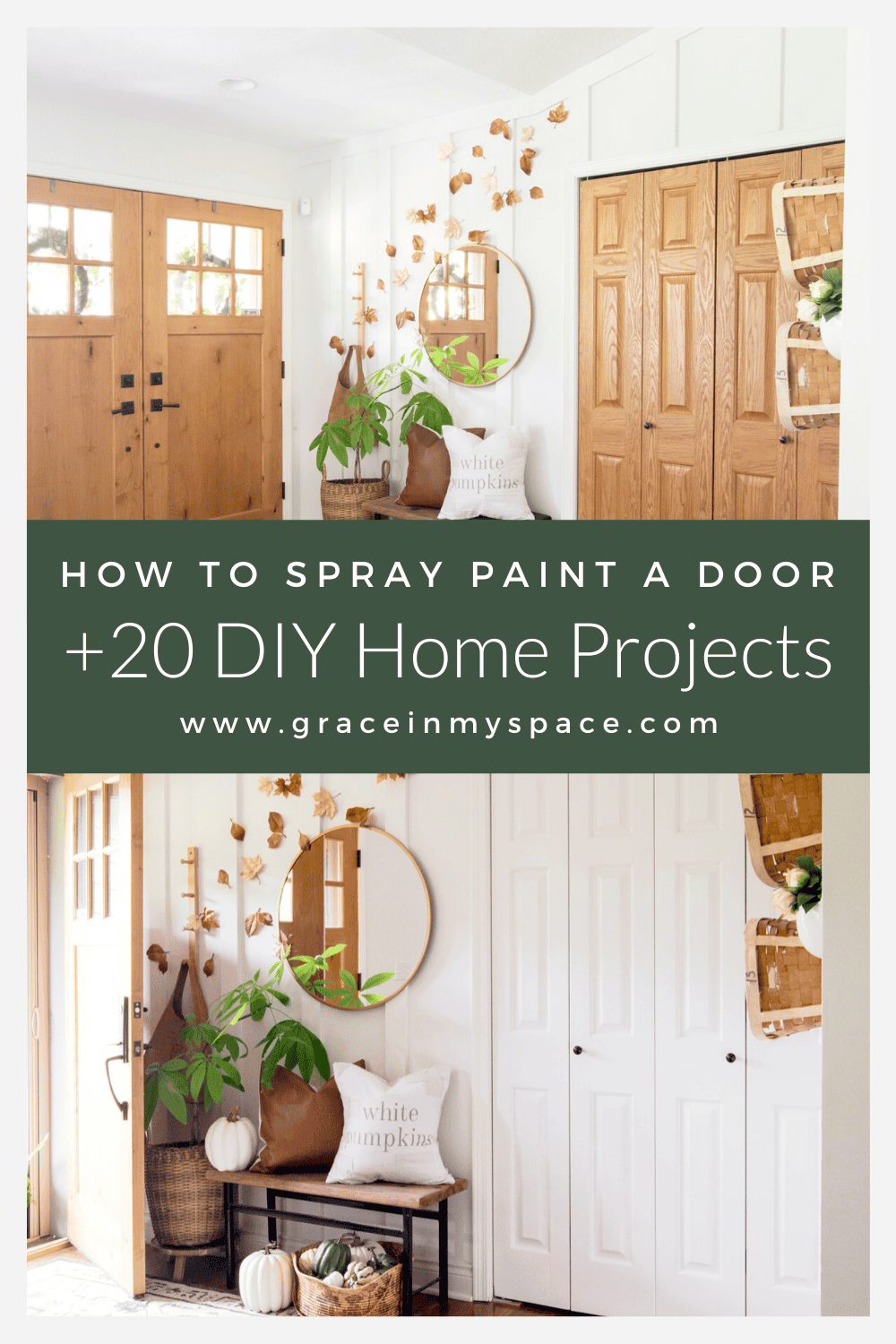 How to German Schmear River Rock
Another "lipstick" DIY, as I like to call them, is my update to our river rock hearth. The stone coloring and shape is not my style, however, I knew we could make it more earthy with a german schmear.
This was a simple process, but having two sets of hands made a big difference!
How to Install a Barn Beam Mantel
I'm saving one of the best for last! My barn beam mantel makeover is one of my favorite stories from my DIY adventures. I was able to buy this century old barn beam from a barn that had to be torn down.
Get this, for $10!!! It was in pretty rough shape when I bought it, but after some effort I was able to bring it back to its glory. Learn how we installed this barn beam mantel to give me the look I wanted on this fireplace!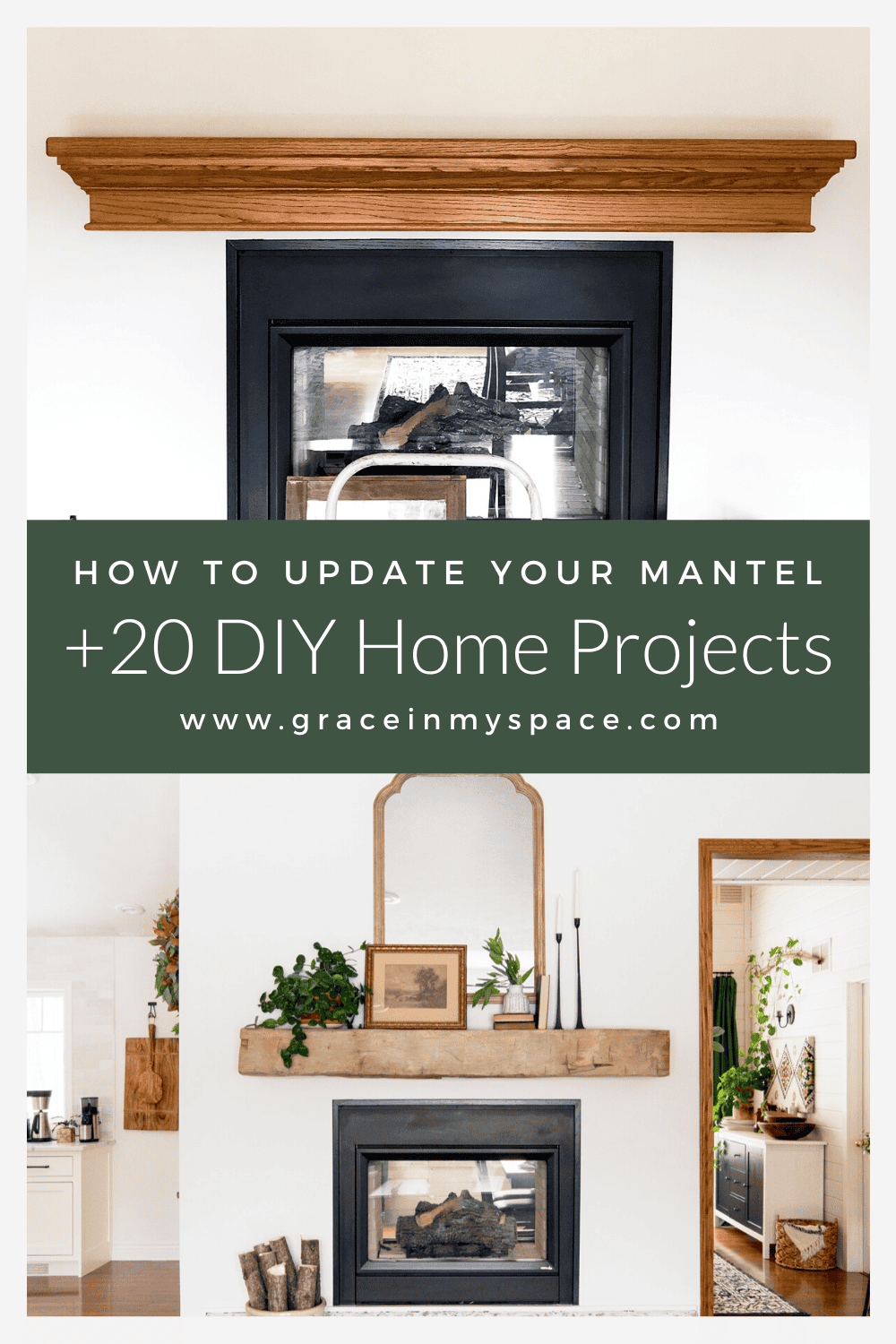 DIY Curtain Rods for $20
Another favorite way to update my house is by adding curtains to our large windows. It just feels more "dressed" that way. However, windows that are 20 feet long require expensive custom curtain rods. Unless you make your own!
This is a DIY home project I've used in every home we've lived in and saves so much money!
How to Paint a Window without Taping
The last of my DIY home projects I want to share today is how I updated my windows without the dreaded process of taping. This is a very easily tutorial, complete with a video!
Stay Connected
Thanks so much for stopping by the blog today! I hope that one or more of these DIY home projects can help you as you seek to update your home and make it into a haven you love!